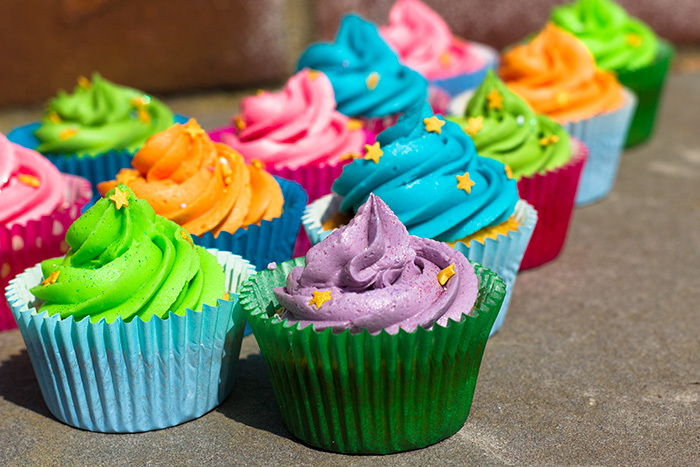 Vanilla Cupcakes for a Children's Party
A simple vanilla sponge topped with a smooth and creamy vanilla frosting.
Prep Time: 10 minutes
Cook Time: 20 minutes
Yield: 10
Happy Sunday! These deliciously simple vanilla cupcakes look great and taste delicious.
I have had a lovely weekend – after a sad few weeks it was great to get out and about with friends and the weather has been amazing. On Saturday morning I set about baking 36 bright vanilla cupcakes for a child's birthday party. It was lovely to make something so colourful and all before 11am!
This recipe is taken from the Hummingbird Bakery.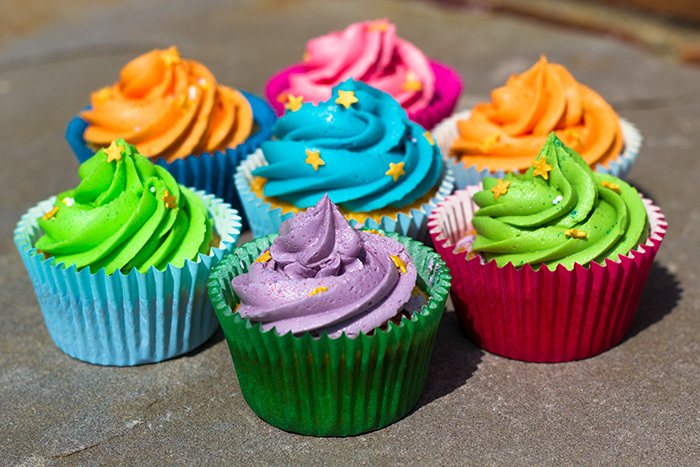 Ingredients for the sponge:
120g plain flour
140g caster sugar
1 ½ tsp baking powder
a pinch of salt
40g unsalted butter, at room temperature
120ml whole milk
1 egg
¼tsp vanilla extract
Method:
Preheat the oven to 170°C (325°F) Gas 3.
Put the flour, sugar, baking powder, salt and butter in a freestanding electric mixer with a paddle attachment (or use a handheld electric whisk) and beat on slow speed until you get a sandy consistency and everything is combined.
Gradually pour in half the milk and beat until the milk is just incorporated.
Whisk the egg, vanilla extract and remaining milk together in a separate bowl for a few seconds, then pour into the flour mixture and continue beating until just incorporated (scrape any unmixed ingredients from the side of the bowl with a rubber spatula).
Continue mixing for a couple more minutes until the mixture is smooth. Do not overmix.
Spoon the mixture into the paper cases until two-thirds full and bake in the preheated oven for 20–25 minutes, or until light golden and the sponge bounces back when touched.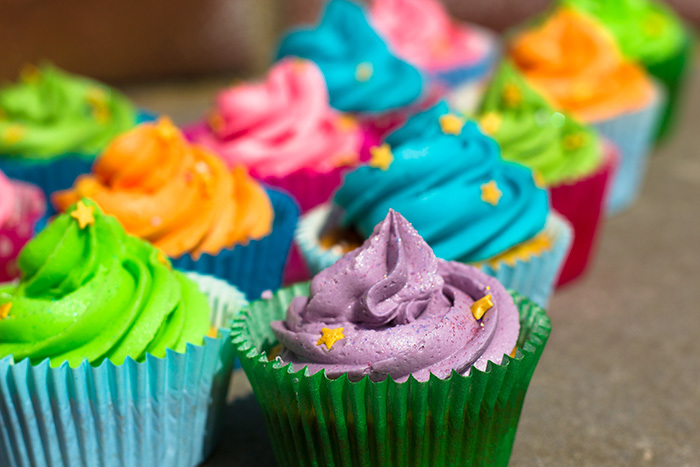 Ingredients for the frosting:
250g icing sugar, sifted
80g unsalted butter, at room temperature
25ml whole milk
a couple of drops of vanilla extract
Method:
Beat the icing sugar and butter together in a freestanding electric mixer with a paddle attachment (or use a handheld electric whisk) on medium-slow speed until the mixture comes together and is well mixed.
Turn the mixer down to slow speed. Combine the milk and vanilla extract in a separate bowl, then add to the butter mixture a couple of tablespoons at a time. Once all the milk has been incorporated, turn the mixer up to high speed.
Continue beating until the frosting is light and fluffy, at least 5 minutes. The longer the frosting is beaten, the fluffier and lighter it becomes.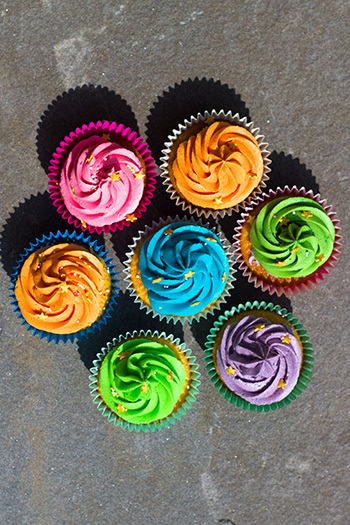 To mix the different colours I split the frosting between some bowls. I then added a few drops of Wilton food gel to each bowl and mixed well by hand. I then sprinkled on some edible glitter, stars and hundreds and thousands, but you can add anything you like!
I love the way these look – so bright and cheerful. Perfect for a child's birthday party!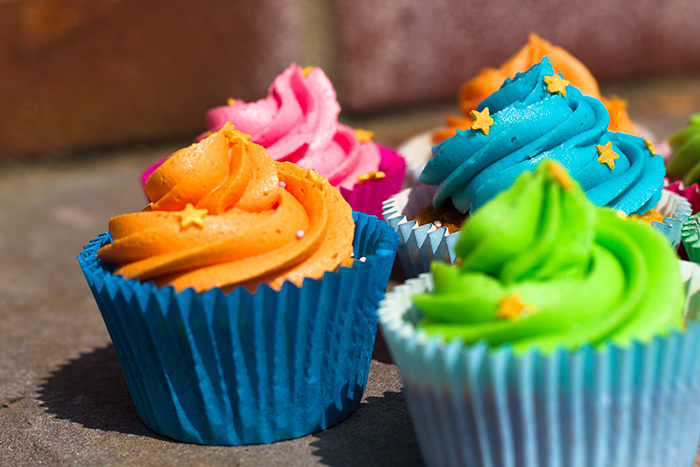 Did you see that as a reader of Sunday Baking you can beta  25% discount for tickets to the BBC Good Food Bakes and Cakes Show 2014? Read all the details here.