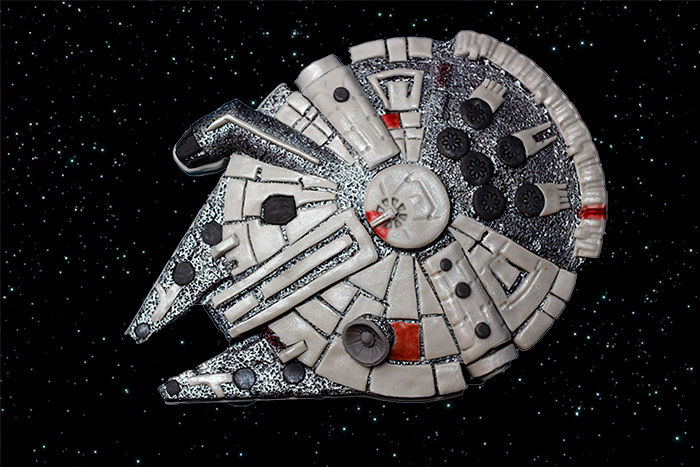 Star Wars Millennium Falcon and X-Wing Cakes
A Star Wars Millenium Falcon Cake with X-Wing Cupcakes to accompany it!
Prep Time: 4 hours
Cook Time: 1 hour, 25 minutes
I'm so excited by this Millenium Falcon Cake….and I'm not really into Star Wars! (and my husband enjoyed getting geeky and putting the star backgrounds in to the photos).
A good friend and colleague is moving on to a new job this week so I was asked to make him a Goodbye cake, and the request was for it to be a Star Wars themed cake.
I had a lot of different ideas but when I saw this mould at Lakeland, I knew this was what I needed to do. The only thing about it was that it looked like you couldn't really frost/ice it in the usual way as you would lose all the definition. The picture on the website looked like it was sprayed with edible silver spray. That's fine, but it meant that the cake had to be moist enough and tasty enough to stand on it's own without a frosting. The box also said it required a 6 egg recipe.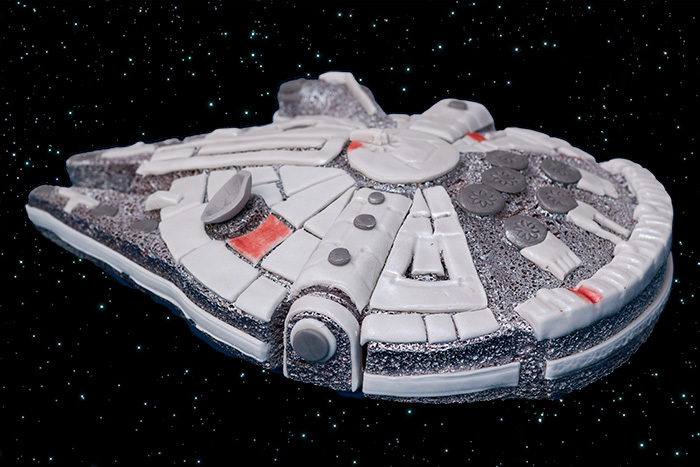 So I got looking for cakes without frosting and I came across this 3 egg Ginger cake recipe. Perfect – I just doubled it! This gave me plenty of cake mixture (plus enough for 6 muffins!) and it tastes really good.
Ingredients for the cake:
500ml oatmeal stout or Guinness Stout
450g black treacle
1 teaspoon baking soda
560g plain flour
3 teaspoons baking powder
4 tablespoons ground ginger
2 teaspoon ground cinnamon
1/2 teaspoon ground cloves
1/2 teaspoon freshly grated nutmeg
Pinch of ground cardamom
6 large eggs
440g dark brown sugar
400g granulated sugar
336g vegetable oil
Method:
Preheat oven to 180°C.
Generously spray the tin with cake release spray
Bring stout and molasses to a boil in a large saucepan and remove from heat.
Whisk in baking soda, then cool to room temperature.
Sift together flour, baking powder, and spices in a large bowl.
Whisk together eggs and sugars.
Whisk in oil, then molasses mixture.
Add to flour mixture and whisk until just combined.
Pour batter into mould
Bake in middle of oven. I tested mine every 20 minutes and I believe it actually took around 85 minutes! (I did have to protect the smaller end with some foil half way through baking as it cooked quicker than the fuller end.
Leave the cake to cool slightly before slowly and gently releasing it!
I had no trouble with getting the cake out of the mould.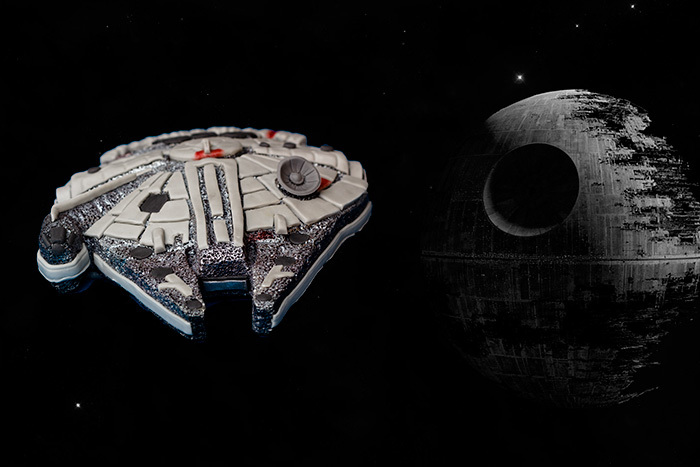 Once cooled (I left it overnight) I got to work on decorating it…
Base Colour: I sprayed the cake using an edible silver spray paint. This worked well and you can build up the colour.
Fondant shapes: To get the right colour I mixed some black gel colouring into some white fondant until it was grey. I then rolled it out thinly and pressed it into the inside of the mould. This then gave me the indents to match what was on the cake. With a sharp knife I cut the shapes out and placed them into the cake. I used a bit of water to stick some of it on, but the silver spray acted as a good glue!
Satellite dish: As this had to stand up I used some flower paste. Again – I coloured it grey and moulded it around a measuring spoon to keep its shape. Once dried (and hard) I placed it onto the cake.
I looked up photos of the Millennium Falcon and there were some red panels which I added by brushing on some red food colouring.
I used the picture on the box to the mould as a guide to the decorating but used my imagination and added quite a bit more. I think it took me around 4 hours which isn't too bad!
For the cupcakes I just used my chocolate and cream recipe. I tried to make the cream topping a really dark blue/black but after putting a reasonable amount of colouring in it just went grey and after the last disaster of trying to make black frosting I decided just to stick with grey!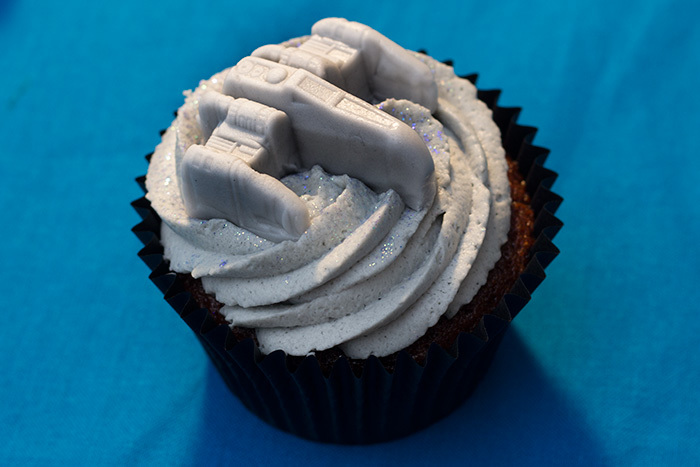 For the X-Wings I got an ice cube tray! These are so easy to use for moulding cake toppers! Originally I wanted to make them out of candy melts but I ran out of time to get them so I just used the fondant. I pressed the fondant in hard to make sure it got into all the spaces and then popped it into the freezer to harden up. This makes it easier to get them out of the tray. I used a sharp knife to cut around the edges and neaten them up and then left them to dry before placing them on the cakes.
Overall I'm really impressed with this…and I think the Star Wars fans in the office were too!
You'll be missed, but May the Force be with you James!
Rach x